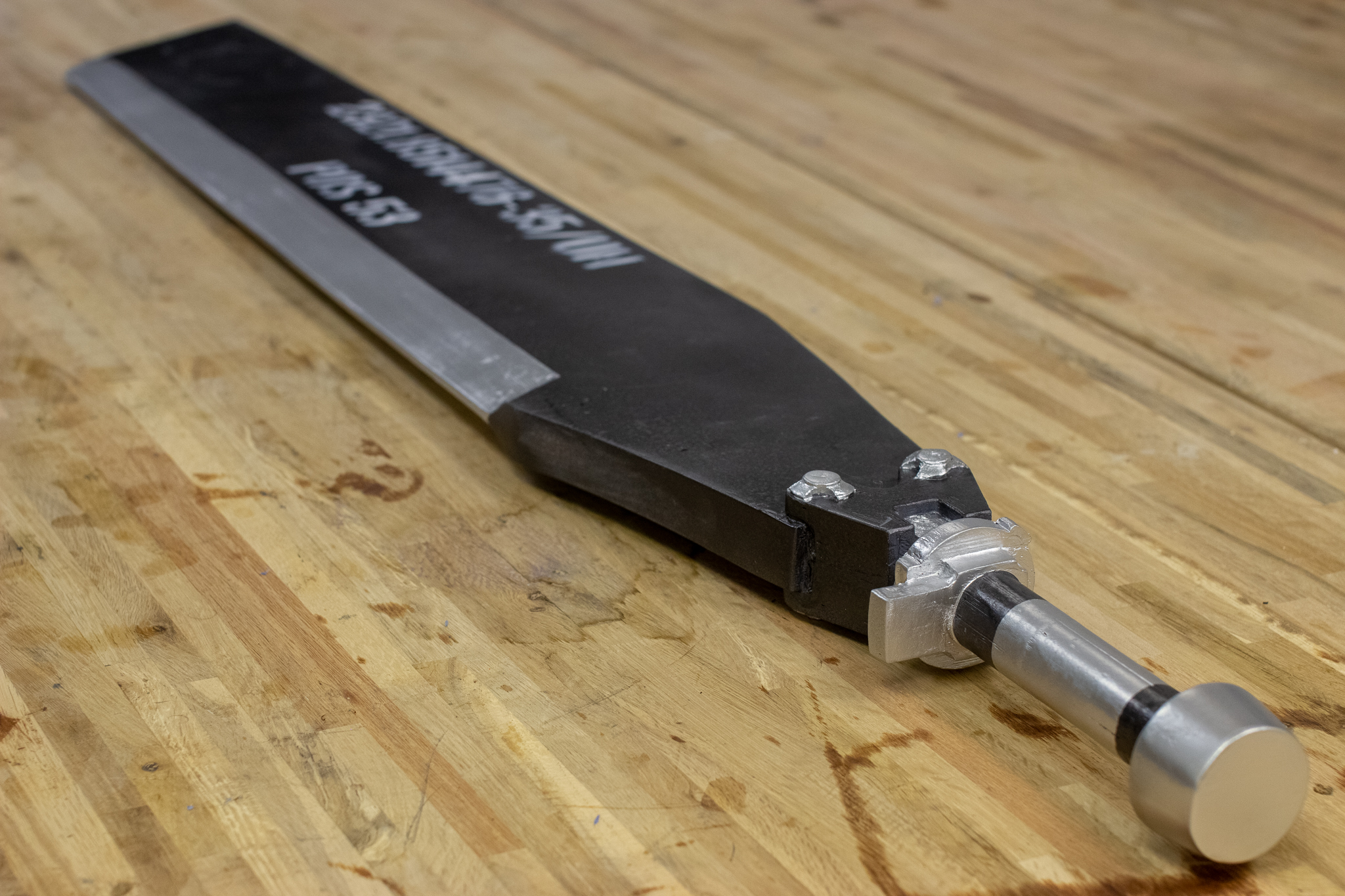 Ever fantasized about wielding your favorite weapon from your favorite movie or TV series? Fortunately enough, we were able to experience that feeling with the helicopter sword from the blockbuster movie, Edge of Tomorrow!
Our first step was to obtain an STL file to import into the AM1. We contacted DmitriyKotlyar, an extremely talented artist that designed the Heli Blade. We will leave you the link to his CG Trader here: https://www.cgtrader.com/3d-models/military/melee/heli-blade-from-edge-of-tomorrow
After adding the file into the AM1 Industrial 3D printer, we slice the sword in TWO so we can have the best detail in both faces.
By doing that, we also save precious time and materials in case something went wrong.
The material that we chose was PC+PBT (polycarbonate + polybutylene terephthalate). This material is as stiff as it is ductile, highly chemical-resistant, with good structural integrity, excellent load-bearing performance, and drop impact resistance (in case our client ... or us… had some watermelon slicing to do). This material is easy to print, but requires a heated build chamber to print in large scale.
We started the print with a 1.0 mm nozzle and a 0.1 mm layer height. We input as a personal touch a honeybee shape filler to make it as lightweight as possible, but also have a high impact distribution and resistance. Basically, we made it wieldable.
Each side took 12 hours to print. Overall, 2 working days in total.
After those two days, we glued each side with Epoxy. This glue is very efficient and widely used for XL or Big 3D printed parts. When its dry, the Epoxy is so strong it's almost guaranteed it won't come undone.
Now that we had a unified sword, we sanded down any imperfections. We started with an 80 grid on the flat side, and finished with a 240 grid for a smoother texture and to preserve the details on the hilt.
After all these steps, we just had to do the painting.
We start with a coat of primer to fill any gaps and to ensure that the black paint is going to be well attached to the sword. Then, we wait until the paint has dried and we paint the silver details.
Finally, we 3D printed a stencil, that we sprayed white paint on top of the sword.
When we finished, we thought it would be a great idea to slice a watermelon with it… and FILM IT! Scroll down to watch the whole video!
To be honest, we were not quite sure if the sword would even cut halfway through the watermelon. But to our complete surprise, it sliced ALL THE WAY!
From start to finish, this project was extremely fun and we are really excited to do it again.
Please let us know when you need our help creating your next prop!
If you are interested in buying your own Edge of Tomorrow Sword, Sanded, Primed & Painted 45"(1.14m) it's only $720!